Buying a gift for someone can be stressful, especially when you want to give a gift that is not just special and personal, but also functional. Whether the recipient of your gift is a chef or not, a wood cutting board can be all of those things.
Our wood cutting boards, when cared for properly, can be used for generations and become family heirlooms. Make them even more special when they're engraved with a special message or personalization. We've hand picked some of our best selling personalizations that are perfect for different occasions throughout the year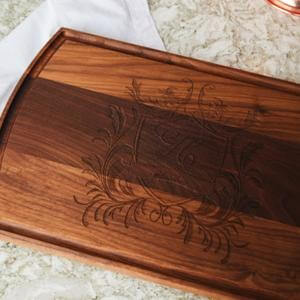 Anniversary Gifts
The traditional gift for a 5th anniversary is wood, and what better wood gift to give than a personalized wood cutting board? We have a specific collection of Anniversary Engravings for you to choose from and endless options of the cutting board to engrave them on. One of the best sellers from our anniversary collection is the Spiral Song Lyrics Engraved Cutting Board that you can engrave the lyrics from your first dance song on for the perfect wood anniversary gift.
Christmas Gifts
Christmas is usually the time of year that the traditional family recipes make their way back into the kitchen, and one of the best selling personalized wood cutting boards of Christmastime is our Family Recipe Cutting Board. Whether you use it to roll out cooke dough or keep it on the shelf as a keepsake, this specially engraved cutting board will definitely invoke tears to whoever receives it.
Birthday Gifts
Birthdays are the time to splurge a little, so whether you're buying a birthday gift for someone special or for yourself, a high quality wood cutting board is a great option. For the one who likes to try out new recipes, our customers have been raving about this Teakhaus Reversible Edge Grain Cutting Board with Tablet Slot that holds up your tablet or smart phone while you cook. Teak wood is known to be one of the most durable woods you can use in your kitchen and the beautiful grain of teak wood matches any kitchen.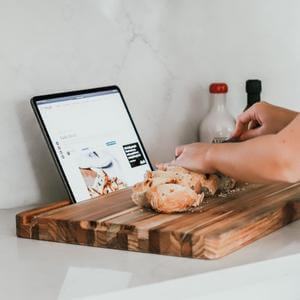 Housewarming and Host Gifts
You never want to show up someone empty handed, and we have a collection of small and affordable wood cutting boards that are perfect for your new neighbor or to take over to a dinner party. One of our more unique boards, the Tuchakoe East Asian Walnut Cutting Board measured at 15x6x1" and is cut from a single piece of walnut wood. With a small handle, it's perfect to hang up in your kitchen as an accent piece or to share a small charcuterie spread with house guests.