Posted by Colleen on 29th Jan 2015
Hi, its Colleen from the food blog, Souffle Bombay here today with what I think is a delicious option for Game Day (or any day).
Once again the Big Game is upon us! For many I think the day is more about food than football! I usually don't even know who is playing (sad but true). My husband is big into football while I just like the gatherings, the fun and the food.
The options of what to eat on Super Bowl Sunday are almost endless; people sure do like to chow down during a party! Did you know that in the US alone, 1.25 billion chicken wings are consumed over Super Bowl Weekend each year...over a billlllion!!!
Since the kick-off is happening at 6:30 for us here on the East Coast, we are gathering with friends earlier in the day and grilling up some meats to enjoy along with a few side dishes. During the game we will have some dips and finger food.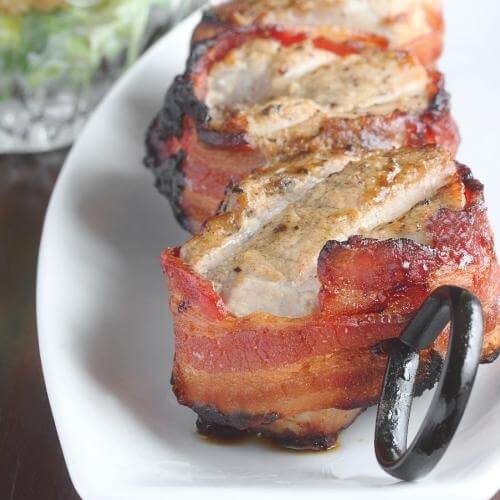 One of my favorite meats to grill is pork tenderloin; you can do so much with pork tenderloin. I decided to wrap a few tenderloins in bacon ( bacon!!) and glaze them with an easy & flavorful chipotle sauce. Pork wrapped in pork, what's not to love?
When we have people over for a party and we grill, I like to pull the meats and veggies off of the grill and serve them off of the various cutting boards I have. I place the meats & veggies around the patio or kitchen, and people help themselves. It's easy and it makes a pretty presentation with dishes, bowls and cutting boards scattered about, like "stations". Boards like my John Boos Board are great to use since it has a convenient juice groove and catches sauce, glaze or juicy meats which help me keep things neat and tidy.
Whether you are rooting for your favorite team this Sunday or you are just in it for the food (wink!) I hope you have a fantastic time!
Bacon Wrapped Pork Tenderloin with Chipotle Glaze
2.5 pound pork tenderloin
Salt & pepper
7-8 strips of bacon
Chipotle Glaze
½ cup honey
3 TBS adobo sauce (from a can of Chipotles in Adobo Sauce)
1 tsp fresh lime juice
Pinch of salt & pepper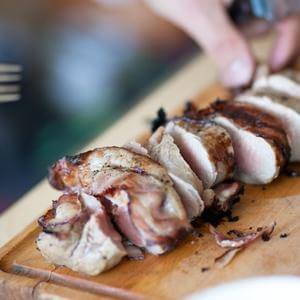 Season your tenderloin, and then wrap the bacon slices around it, one at a time until the tenderloin is fully wrapped. Each slice will most likely go around the loin 1 ½ times. Season the bacon a little then gently place the whole thing on your preheated grill (med-high) and cook for 3-5 minutes, you want to sear the bacon on all sides. Once the bacon releases from your grill, gently turn the tenderloin over to char the other side. Continue turning the meat until all parts of the bacon are seared and are beginning to char. Once bacon is seared and charred, coat the tenderloin in the glaze and finish cooking the meat over indirect heat by placing it on your grill rack or on a part of the grill where heat is not directly beneath it (so it finishes cooking like it's in an oven). Glazing every so-often and watching for flare ups. A 2 ½ pound tenderloin should take about 25 minutes total cooking time, or since grills vary, when the internal temperature of the thickest part is 140 degrees. Once removed from the grill, allow the meat to rest for 5 minutes. Slice & enjoy!
Colleen's Notes: If you can only find smaller (1 lb or so) tenderloins, that is fine. They will just cook quicker. If you want even more flavor – rub your tenderloin(s) with Cajun seasoning before wrapping them in bacon.
If you don't have access to a grill, you can sear the bacon wrapped tenderloin on the stove and finish it in a 400 degree oven (using the broiler if necessary to crisp up the bacon).
Colleen writes the food blog Souffle Bombay, where she shares recipes that anyone can make for just about any occasion and occasionally lets her 10-year-old daughter take over her blog. Colleen often says that cooking together both connects people and creates memories that will last beyond one's own lifetime. Colleen is a recipe contributor to a number of sites on the web as well as a children's cookbook author that has appeared on QVC.