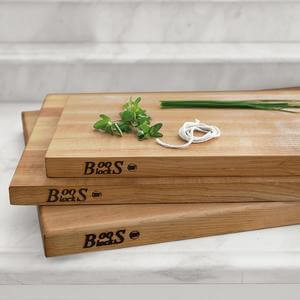 Here at Cuttingboard.com we're proud to partner with some of best brands in the culinary world and John Boos & Co. has been trusted for over a century to provide some of the best quality wood cutting boards in the world.
Since their beginnings in 1887 in Effingham, Illinois, John Boos & Co. has continued to adapt to meet the needs of the time, and today offers a wide selection of cutting boards, butcher blocks, chopping blocks, countertops, and more to both residential and commercial kitchens.
John Boos & Co. has something for everyone, whether you're looking for a cutting board for a small kitchen or a butcher block countertop for your new home. In our partnership with John Boos & Co., we both drop ship some of their products straight from their facilities in Effingham, Illinois and we carry some of their boards in stock in our warehouse here in Atlanta, Georgia. Make sure to pay attention to the lead time listed on each of the product pages if all of our John Boos cutting boards and butcher blocks when ordering so you're prepared.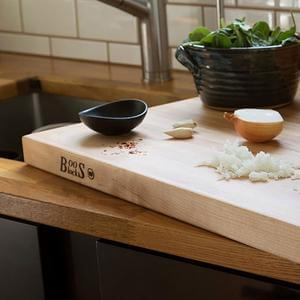 To start of simple, one of the basic and best selling John Boos cutting boards that we offer is the John Boos Reversible Maple Board measured at 18x12x1.5". This board is the perfect residential cutting board for everyday use. It's durable enough to prepare dinner on each night and you'll love to pull it out for a charcuterie board when company is coming.
For those that are more comfortable in the kitchen and for those who cook big holiday meals each year, the John Boos Premium Maple Carving Board measured at 24x18x1.5" is the board you need to carve big cuts of meat, turkeys, hams and more on. With a thick outer juice groove for catching all the juices from carving your meat, this board will make clean up much easier.
Something that is unique about our partnership with John Boos is that we have the machinery here in our warehouse that will engrave logos, monograms, and more onto your John Boos boards. We've curated a collection of popular designs to choose from on our Personalized Cutting Boards page, or you can create your own design or upload an image on our Personalized Cutting Board - Your Own Design page. As always, if you have any questions while personalizing your John Boos wood cutting board, you can reach out to our customer service team.