This time of year calls for family fun and good eats to go along with it. As the 4th of July approaches, it's finally time to plan your themed snacks for hosting or attending patriotic parties. We've compiled a list of easy and cute red, white and blue themed snacks and dishes for any type of entertaining as well as a few best selling CuttingBoard.Com products to serve on. Check out our favorite easy recipes below and see for yourself.
Fruits and Sweets Board
The Chirping Moms take the cake when it comes to patriotic charcuterie boards, but this is not your typical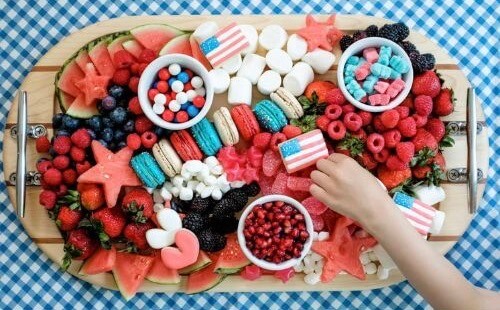 charcuterie board. They've paired sweets such as macarons, cookies, and gummies. This board is a great balance with the addition of fresh fruits for a refreshing touch. Watermelon and strawberries are great for beating the heat, then you can finish it off with patriotic cookies. This playful and patriotic assortment is sure to be a hit for adults and kids at any 4th of July party. Serve it up on our Nautical Serving Board for plenty of space and a nautical touch.
Mini Yogurt and Fruit Board
For smaller snacks, we love the Montolivo Olive Wood Cutting Board for a red white and blue assortment. Our favorite combination is strawberries, blueberries, and yogurt covered pretzels. This is a great afternoon snack with the perfect nutritious balance. The pretzels bring a great salty sweet addition to this snack board along with the perfect color combination for fourth of July entertaining.
Patriotic Cheese Board
Everyone loves a good piece of brie, but this time we've made it patriotic. This super easy board is a great snack to bring into a red white and blue themed party and super delicious. Blackberries, strawberries, raspberries, and blackberries are great for decorating this board. Next, you need a delicious, warm baguette sliced to perfection and red or blue jam of your choice to pair with the fresh bread. Serve all at once for a delicious gourmet treat at the 4th of July party. One of our favorite cheese boards to use for this appetizer is the Teakhaus Edge Grain Board. This cutting board is super durable, made from ethically sourced teak wood making it just as good for chopping as it is for serving.
American (French) Toast with Fresh Berries
One of our favorite ways to celebrate America's independence is with a red white and blue brunch. If you love French toast as much as we do, try this "American" toast. We tried this recipe by Natasha's Kitchen and have deemed it a go-to as far as French toast recipes go. Make this dish American with red and blue fruits plus powdered sugar sprinkled on top. Our favorite berries to add are strawberries, blueberries, blackberries, and cherries. Drizzle strawberry or blueberry syrup over the top of your finished toast for the ultimate patriotic brunch dish.
---
Now that you have a few options for true American entertaining, it's time to start the party. Check out our many types of cutting boards for the best personalized serving tray to fit your entertaining needs. Need help choosing your favorite? Shoot us an email at help@cuttingboard.com.