Heat up the grill and pull out those serving platters because the 4th of July is the time to entertain! Usually the 4th of July means grill marks on your meat, ice cold drinks in your cup, and delicious finger foods for your guests. Whether it's a full on 4th of July block party or just your family at home, make sure your kitchen is stocked and ready for all things 4th of July.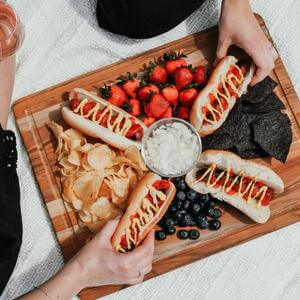 Hot dogs are a 4th of July staple and whether you like your hot dogs plain or filled with condiments, upgrade your hot dog serving game from that metal pan from the grill to a durable and beautiful Teakhaus Cutting Board. Now for those people who love all different types of hot dog condiments, our friends at Wholesome Good have a delicious selection of all things mustard, ketchup, hot sauces, aiolis, and more.
Hot dogs are good, but everyone knows the best part of the 4th of July are the red, white, and blue snacks. Blue foods don't have to mean blue food coloring, though. Some of our favorite blue snacks to serve on the 4th of July are blueberries, blackberries, blue corn tortilla chips, and blue cheese.
Speaking of blue cheese and fruit, cheese boards also make the perfect grazing snacks or grab-and-go snacks to have out on your counter to enjoy. Some of our best selling boards for charcuterie are our Olive Wood Boards, mostly because of their unique grain and perfect size for small to medium snack boards. These olive wood cutting boards are all cut from a single piece of olive wood and usually showcase a live edge from the olive wood, making it look even better on your kitchen counter.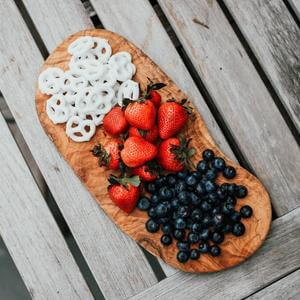 All these delicious foods might leave you and your guests thirsty, and the last thing you want to be worried about during a party is shattered glass or a surplus of red solo cups littered around the yard. Our friends at Carved Solutions have the perfect solution - a collection of Unbreakable Acrylic Drinkware for all your outdoor entertaining needs.
Whether you're enjoying a cold beer, wine, or 4th of July themed cocktails, there's an unbreakable cup for that.
If you and your family get a little more adventurous with the Green Egg or smoker on the 4th of July, don't forget to check out our collection of chopping blocks and butcher blocks for larger cuts of meat.