Posted by Katie Kelly on 12th Jul 2023
No matter your taste buds, Valentine's Day is a day to indulge and splurge. If you don't reek of garlic and wine by the end of the night, you've done it totally wrong. Whether you're gluten free, vegetarian, or on a strict paleo diet, each of these delicious recipes can be modified to fit your dietary needs!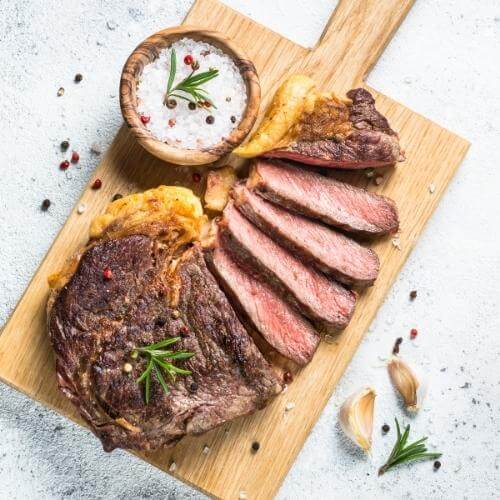 Roasted Garlic Rosemary Ribeye Steaks
2 ribeye steaks
3-4 tablespoons of butter
2-3 garlic cloves, minced
1 tablespoon fresh rosemary, chopped
Salt and pepper to taste
A staple for any celebration- steak. There are so many different ways to cook steak, but when it's cold outside and your grill is out of propane, a cast iron pan does the job perfectly.
First things first, you'll want to season your ribeye with freshly cracked salt and pepper on all sides and let it rest for a few minutes after taking it out of the fridge. While it rests, heat up your cast iron pan on the stove and put about 2-3 tablespoons of butter in the pan along with fresh minced garlic and chopped rosemary.
Sauté the garlic and rosemary until fragrant, then go ahead and add those ribeyes to the pan to sear on both sides. You may need to add a little more butter after flipping the steak. Depending on the thickness, about 6-7 minutes on each side at medium-high heat will cook your ribeyes to about medium rare temperature. If you like your steaks more well done, throw the pan into the oven at 350 degrees for about 5 minutes to cook further.
Let your steak rest on a cutting board or carving board with juice grooves for about 7-8 minutes before slicing it up so it has plenty of time to soak in the delicious juices. *chef's kiss*
Pair with your favorite style potatoes, Brussel sprouts, or a Caesar salad.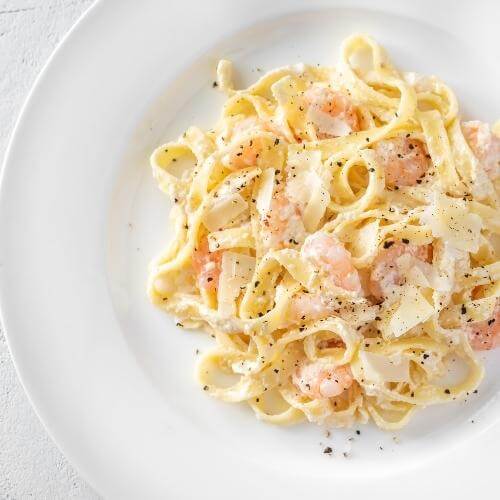 Creamy Shrimp Alfredo
1lb raw shrimp, peeled and deveined
1 standard size box of fettuccine or linguine
1/4 cup butter
1 pint of heavy whipping cream
1 1/2 cups parmesan, freshly grated
1-2 cloves of garlic, minced
1 teaspoon ground nutmeg
Salt and pepper to taste
The trick to this dish is the homemade Alfredo sauce. It sounds intimidating, but it's actually one of the easiest sauces to make from scratch and is about a hundred times better than store bought Alfredo sauce. If you're feeling over ambitious, you could even make homemade pasta at home rolled out on one of our extra large chopping blocks.
Start by boiling a pot of water for your pasta. Thinking you need olive oil and salt? It doesn't hurt, but you actually don't need either to keep your pasta from sticking. Regularly stirring the pasta will keep the noodles from sticking to one another.
In a nonstick pan, melt a small amount of butter (about 1-2 tablespoons) of butter. Sauté your shrimp with salt and pepper until pink and then remove the shrimp from the pan and set the shrimp aside. In the same pan, melt the rest of your butter and add in your minced garlic. Sauté the garlic until fragrant and then pour in all of your heavy whipping cream.
Wait until the cream starts to simmer slightly, then slowly add in your grated parmesan, salt, pepper, and ground nutmeg, stirring constantly until all of the cheese is melted and the mixture thickens.
Turn off the burner and add in your drained pasta and shrimp, stir all together and serve! Garnish with a little extra parmesan or cracked black pepper.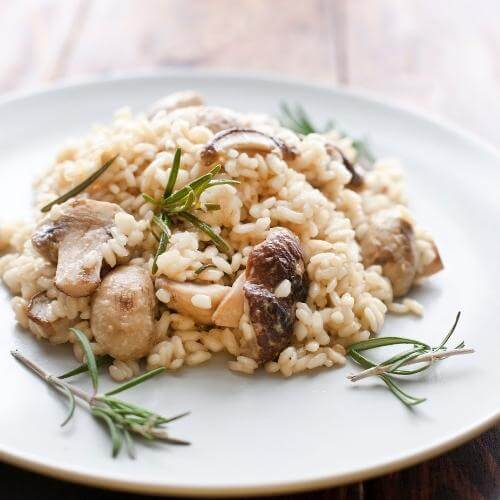 Mushroom Risotto
6 cups vegetable stock
8 tablespoons unsalted butter
12 ounces mushrooms
1/2 teaspoon dried thyme
2 tablespoons red onion, diced finely
1 1/2 cups arborio rice
1 cup dry white wine
1 cup parmesan, freshly grated
Salt and pepper to taste
The easiest place to start (and this can be done ahead of time) is to go ahead and chop your mushrooms and onions and grate your parmesan. This can be done on a small or simple cutting board like the classic John Boos Reversible Maple Board.
Warm your vegetable stock in a pot on the stove - it doesn't have to boil, but it needs to be warm when adding it to the risotto so the temperature doesn't affect the rice.
In another large pot, melt about 2-3 tablespoons of butter and sauté your mushrooms until desired texture. Remove your mushrooms from the pot and set aside.
In the same pot, add 2 more tablespoons of butter and sauté your red onion until translucent but not necessarily browning (about 3-5 minutes). Then add it in the rice to your onion and sauté the mixture until the rice is well toasted (light brown, about 3-4 minutes). Stir in the white wine and cook until the wine is almost absorbed, then add the dried thyme and one cup of the vegetable stock. Stir until most of the stock is absorbed.
Repeat this process 1/2 cup of vegetable stock at a time until the rice is cooked thoroughly, but not mushy. Start tasting the rice after about 4 cups of stock to make sure it is still al dente.
Once you're happy with how the rice is cooked, turn the stove off and add in the remaining butter and parmesan cheese. Stir to combine all the ingredients. The risotto will melt the butter as you stir. Finally, stir in the cooked mushrooms and taste before adding salt and pepper.
Add additional salt and pepper to your taste, and bon appétit!