Posted by Lilly Morgan on 27th Oct 2021
It's almost Halloween and you'll want to plan something fun for your kids to get them excited for the big night of trick-or-treating on the 31st. After the stress of either making or buying Halloween costumes, you probably don't want to take the time to make Halloween dessert from scratch- and we have a solution for you. We've put together a list of "Store-bought sweets" for you to throw together an easy DIY dessert night that will be just as special as making them from scratch. In addition to these fun treats, we've selected a few of our favorite wood serving boards that make entertaining easy. Save some quality time and head to your nearest grocery store for these simple and inexpensive ingredients to make a night of spooky memories!
Bloody Vampire Doughnuts
Channel your inner vampire with these fun and easy Bloody Vampire Doughnuts. Don't worry, this blood is sweet and delicious and these vampires won't bite. Follow along with our recipe for a spooky treat good enough to eat! (No vampires were harmed in the making of these doughnuts.)
Ingredients:
1 bag cinnamon mini doughnuts
1 bag of mini marshmallows
Hard candy eyes
Red gel icing
Instructions:
Take out your desired amount of cinnamon sugar mini doughnuts
Cut mini marshmallows in half, lengthwise
Stick marshmallows on the lower half of the doughnut to make the teeth
Drip red gel icing down from the end teeth to make the blood.
We love to serve these mini treats on our Teakhaus Paddle Board. The paddle handle allows for easy handling to ensure safe transport of your DIY Halloween Goodies.
Spider Web Sugar Cookies
Recipe inspired by Southern Living
Put aside your fear of spiders this Halloween and indulge in yummy, melt in your mouth spider web sugar cookies. You'll feel like a true culinary artist when making these cookies. Don't worry, no real spiders are involved.
Ingredients
Sugar Cookie Dough
One Tub of White Icing
2 squeeze tubes of black icing
Instructions:
Bake sugar cookies and let cool
Load half of the white icing into a piping bag, both outfitted with small round tips
Ice top of each cookie with a layer of white icing
Immediately use black icing to pipe three concentric circles radiating out from the center of the cookie.
Use a toothpick to drag 8 lines out from the center of the cookie, creating a webbed effect
Let dry for 30 minutes
Shop our Montolivo Olive Wood Cutting Board for a beautiful board to serve these cute cookies on. Each of these olive boards is hand-crafted and one of a kind, making it beautiful centerpiece for any occasion.
Powdered Sugar Doughnut MummiesWe can't forget about the household staple- powdered doughnuts! These may be slightly messier than the other desserts but they are sure to melt in your mouth. Made of easy ingredients, our powdered sugar doughnut mummies are easy peasy halloween desserts and can be eaten immediately after you make them. No scaries here!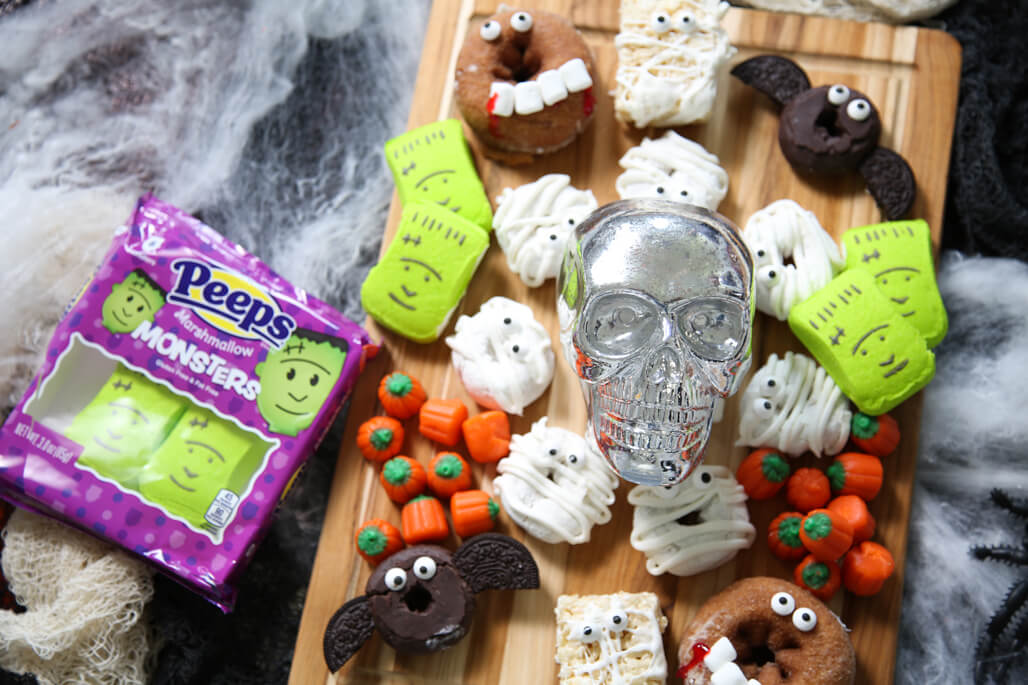 Ingredients:
1 bag of powdered doughnuts
Candy googly eyes
1 tub of white icing
1 Piping bag for icing
Instructions
Take out desired amount of powdered doughnuts and place on parchment paper
Fill piping bag with icing halfway with a ⅛ inch hole cut at the end
Pipe white icing in a horizontal zigzag pattern across one side of the doughnut
Place two googly eyes on the doughnuts
Serve and eat!
Once done, serve these treats on the Teakhaus 405 Cutting Board. This board allows for a big assortment perfect for presenting all of your Halloween creations and light enough for easy movement!