Are you a newbie to the world of high-end cutting boards? Don't worry - we're here to help! We understand that choosing the perfect cutting board for your kitchen can be a daunting process when there are so many options to choose from (especially when shopping on CuttingBoard.Com). From end grain and edge grain to various exotic woods, we'll walk you through some of our best-selling styles and how exactly YOU can benefit from them.
Edge Grain vs. End Grain Butcher Blocks
End-grain butcher blocks create a beautiful pattern made with many types of wood. End grain means that skinny strips of wood are cut at the ends and sealed together with strong adhesive to create a unique tile-like design with the addition of each piece of wood. Many of the end grain butcher blocks we carry are made of sustainably sourced teak wood by Teakhaus. We also offer best-selling John Boos end grain butcher blocks made from walnut and maple.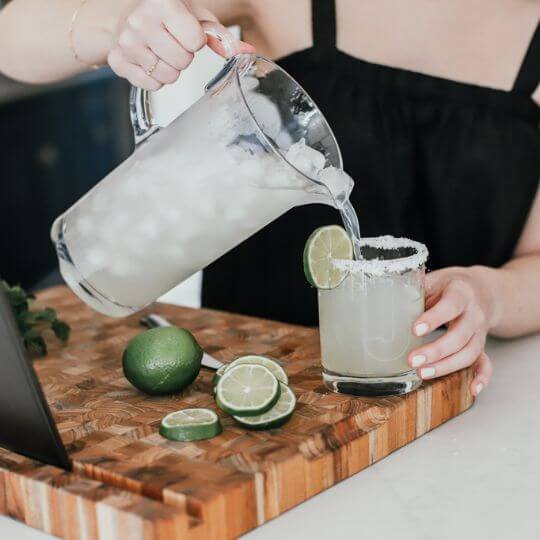 End-grain butcher blocks are proven to be highly durable and prevent knife marks better than plain wood cutting boards. The end grain style creates an extra firm surface for a cutting board that will last years and years (with appropriate maintenance). The Teakhaus 332 Teak End Grain Board is a staple in the home if you are shopping around for an End Grain Board to use in your home.
Edge grain butcher blocks offer a more simple design. These are made by cutting strips of wood and adhering them length-wise before finishing out the board with other features, such as a juice groove or handles. We sell edge grain boards in different shapes and sizes, such as the Teakhaus 107 Teak Cutting Board.
One of the main benefits of the end grain cutting board is that it requires less upkeep than an end grain board. Since the grains of the board are not outward facing, they are less likely to soak up moisture, meaning they won't crack or warp quickly like many other wood-cutting boards. This also means less oiling and maintenance for you in the long run. Who can complain?
Carving Boards
Carving boards are ideal for the house chef who loves grilling and prepping all the meats. We refer to this category of boards as "carving boards" due to their features that allow the cleanest prep of different types of meats. All carving boards feature a juice groove which keeps those messy juices on the board rather than all over your kitchen counter.
Carving boards on CuttingBoard.com are available in several different wood types. These woods include maple, walnut, teak, and larch wood. Carving boards often feature unique tools such as slide-out drip pans and herb cutting trays (as seen on the John Boos Mezzaluna Block) or cutouts to aid in clean-up or slide a smaller cutting board underneath (seen on the Teakhaus End Grain Butcher Block).
Cheese Boards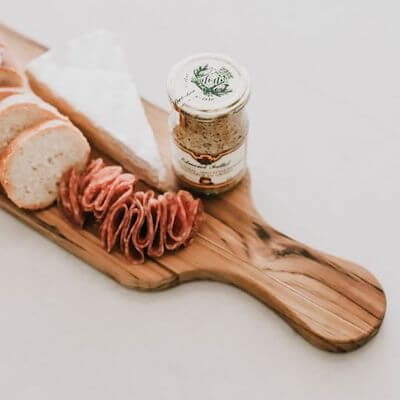 Our cheese board collection has the perfect board for everyone. Our most decorative boards are reserved for the star of the show - cheese (and lots of it)! These boards are typically used for lightly cutting charcuterie meats, gourmet cheeses, and fruits or pickled vegetables. Although these cheese boards are usually for show, they are also made with durable woods such as teak, acacia, maple, walnut, olive wood, and slate.
CuttingBoard.Com's cheese board styles include square, round, rectangular, or more decorative shapes such as a heart, wine bottle, or wine glass. Many of our options offer personalized engravings to be added - great for gifting on all occasions! We also offer more exotic options, such as the Larch Wood Tiger Stripe Buffet Board, which features a modern design and intricate striped pattern that gives this board its name. Our Teakhaus Paddle designs make these cheese boards extremely mobile and efficient for the chef to serve all night.
Custom Cutting Boards
Are you looking for a board with a more personal touch to keep in your kitchen? Our Personalized "Your Own Design' Cutting Board will make all your custom cutting board dreams come true! We make it easy peasy to add customizations to almost any cutting board on our site with nearly any phrase, font, or logo. All text and designs are engraved by artists in-house using high-tech lasers for the most precise engravings. Keep in mind these custom boards take a bit more time, but the wait is 100% worth it!
-
We hope this cutting board style review helps you narrow down exactly what you are in your kitchen. Whether you're the party planner of the friend group and always serving up delicious cheese boards or the master chef who chooses to prepare a prime rib on any given night - we have the cutting board for you! For more information or questions regarding the best style for you, reach out to us at help@cuttingboard.com!